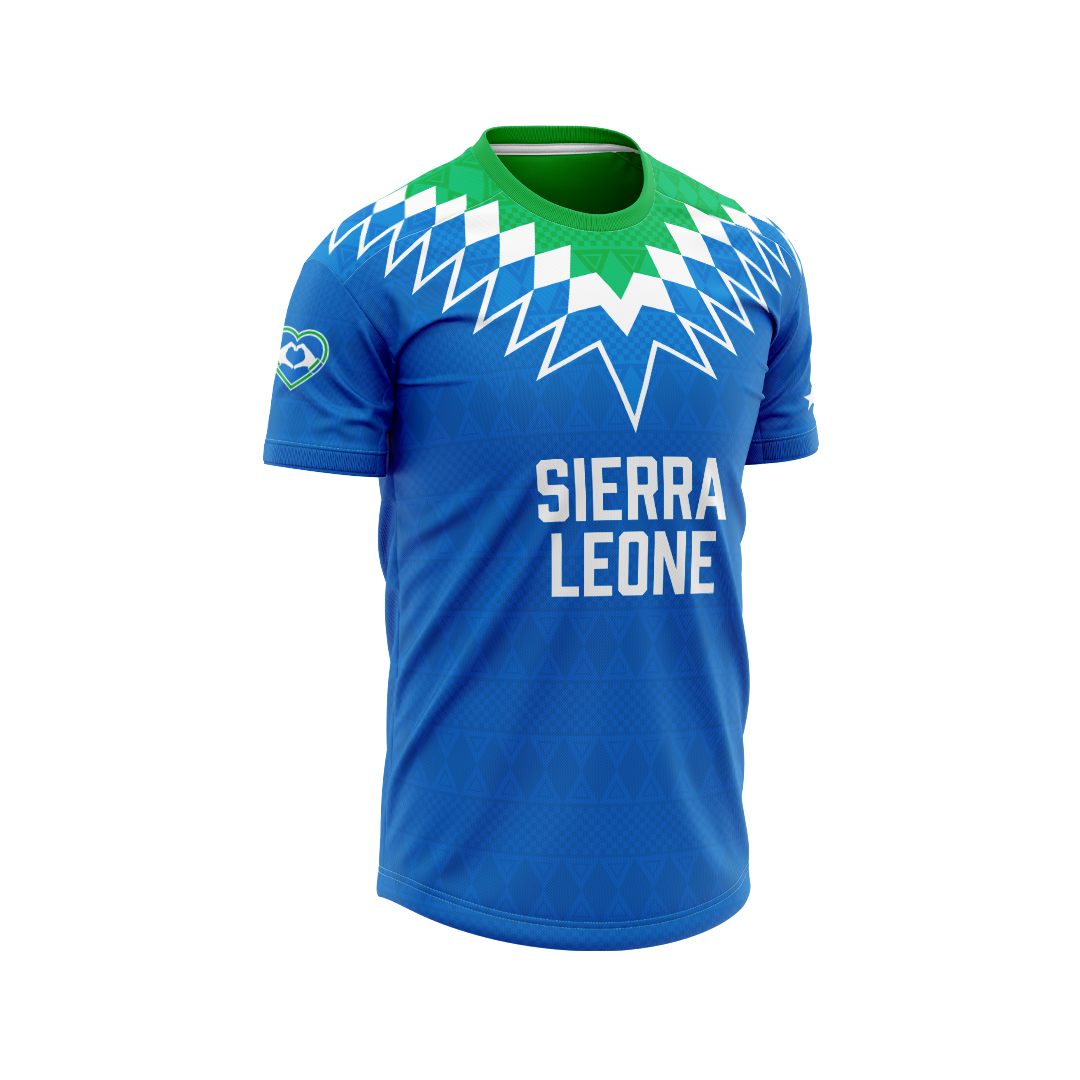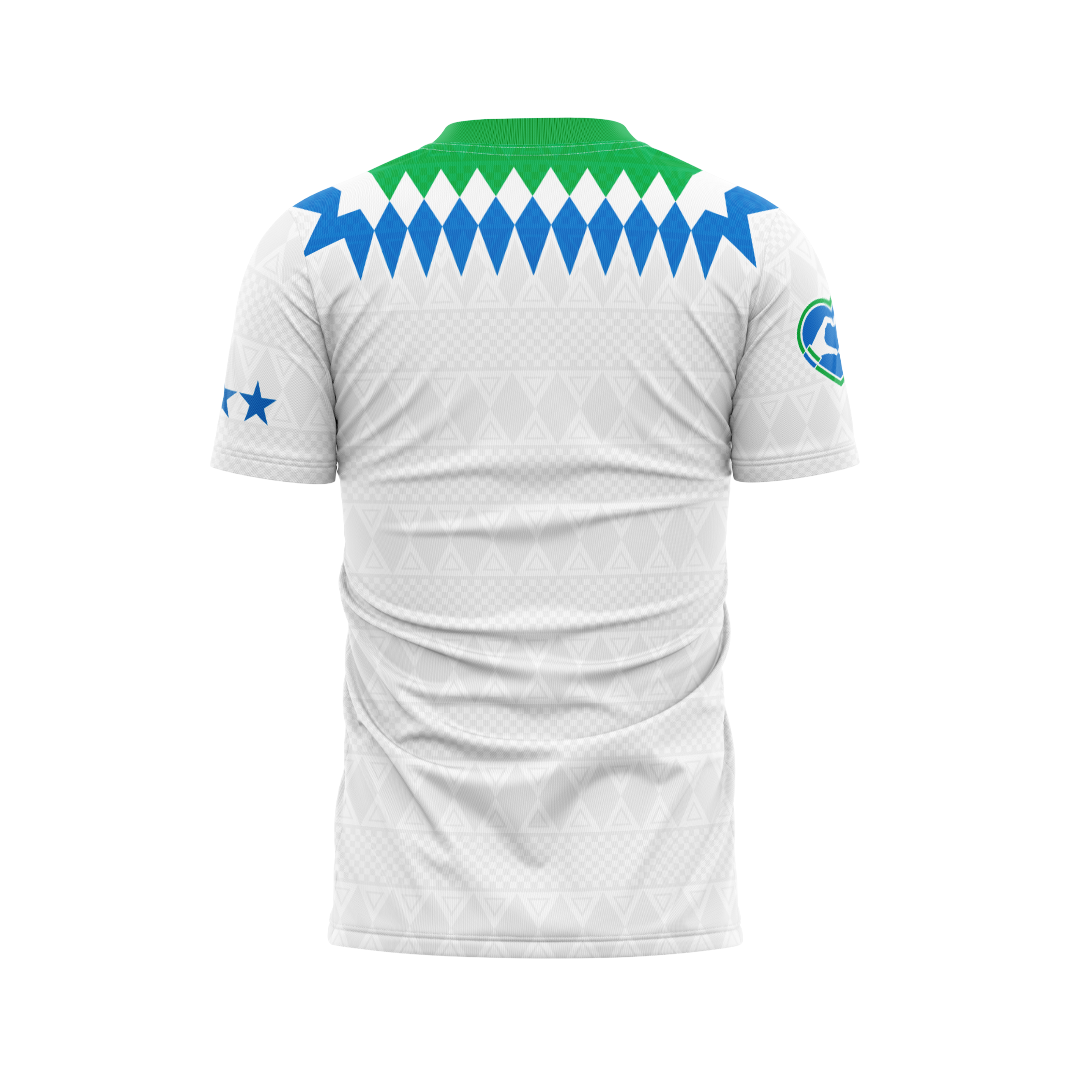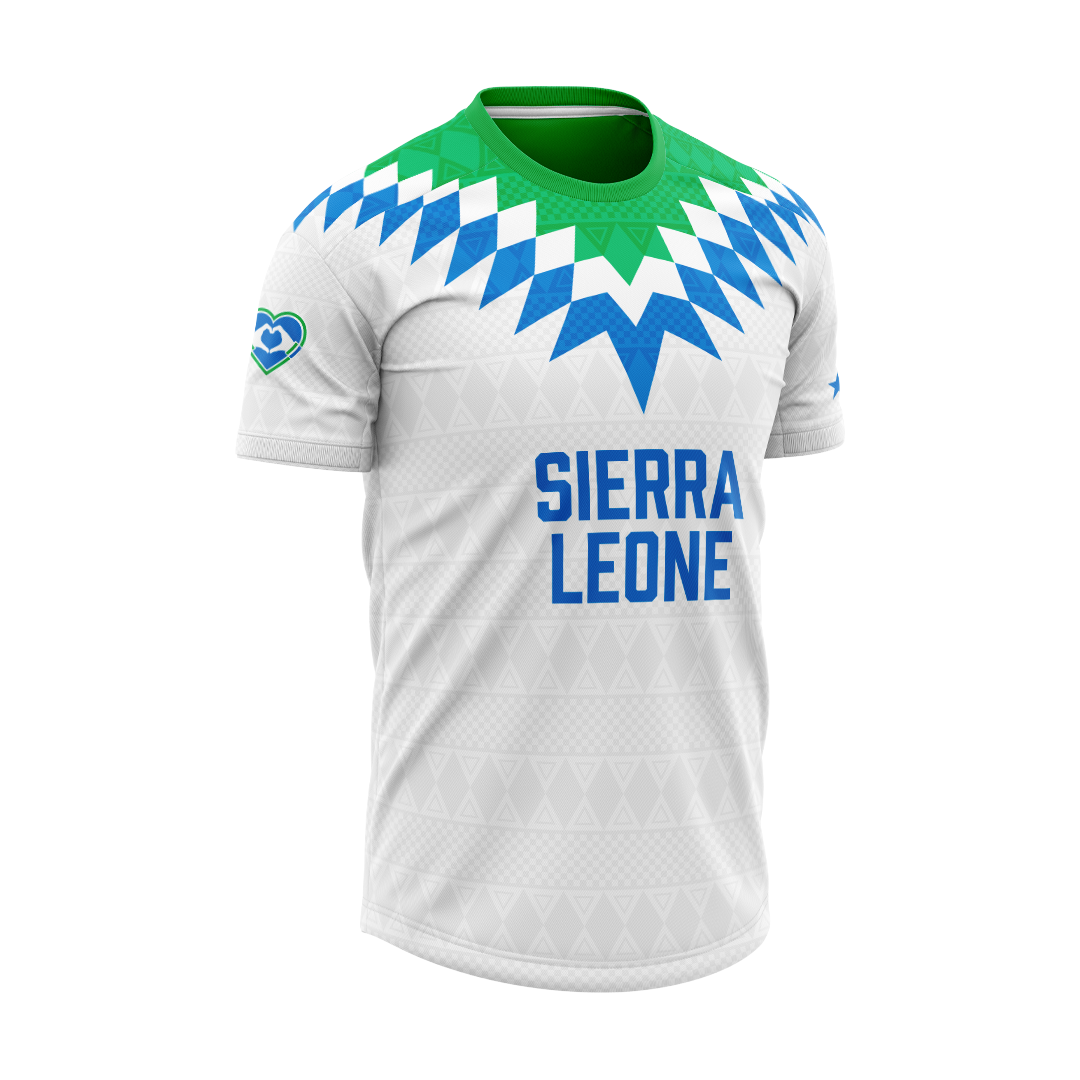 Heart Shaped Hands x Royal Dynamite Jersey without name
Free shipping over $100 & free returns on all orders.
One Purchase = One Child ™
Shipping: THIS ITEM STARTS SHIPPING AFTER Monday, December 13 2021.
 Product Decription:

Heart Shaped Hands X Royal Dynamite Jersey
Pride, Unity and Love for Country is why we do it. With that we have included all elements of that in this home white jersey. It has the country name Sierra Leone across the front as a bold reminder of who you are supporting. The Diamond design on the front and back of the jersey represent the country flag of green, white and blue but also is an ode to designs of the past worn by soccer icons from Sierra Leone. On one side it has the heart shaped hand logo as a reminder of who and why we created this jersey: the young and future generation of the nation. One the other, it has 3 stars to represent the number of times the nation has qualified for such a major continental tournament. The bottom of the jersey has the Royal Dynamite tag to remind you of the brand promise and quality. 
 Product Detail:

Hearts Shaped Hands logo on right sleeve
3 stars on left sleeve
Regular Fit
Ribbed Crewneck
Color: White Or Blue
Fabric: 100 % polyester
Machine wash, delicate cycle.
Imported.
Shipping - Estimated delivery times for the USPS are
Domestic (US) Orders- 3-5 Business days, International Orders*- 7-10 business days
You'll find the tracking number in your shipping confirmation email. You can use the tracking number to track your shipment at UPS.com
Refund - Our goal is 100% customer satisfaction. If you are not satisfied with you apparel purchase, simply return the item in it original, unused condition (including all original packaging and tags) with Fourteen (14) Days of receipt for a full refund.
For detailed information please visit our Shipping policy and Refund policy.
Our Mission
One Purchase = One Child ™
Our mission: RD Cares provides educational resources to children around the world through our One Purchase = One Child initiative, because every child deserves an opportunity to change the world.
RDCares started as a one-for-one give-back program geared at empowering and supporting school children growing up in marginalized and low-income communities around the world.
RDCares has sent more than 1000 educational care packages for distribution among organizations throughout Sierra Leone, Tanzania, The Dominican Republic, and the US.
Fantastic! Fits true to size,
Fantastic! Fits true to size, great quality and looks fantastic!! An added bonus is proceeds go to supporting the local community in Sierra Leone. Forever our home Salone :green_heart::blue_heart: All the way from Australia :hugging: